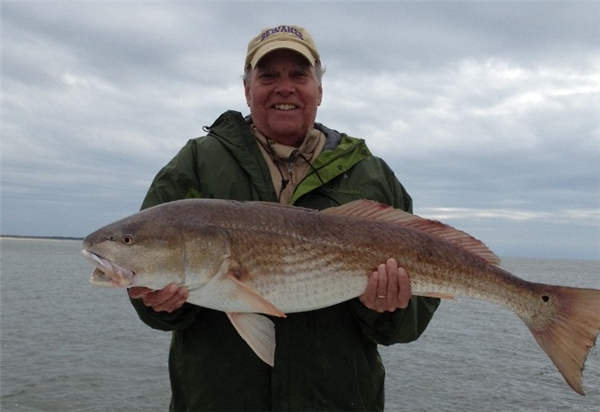 HANK HAYNES FROM JACKSONVILLE'S 44 INCH, 28 LB REDFISH CAUGHT 11/17/12 with Capt. Ken Finch
The past couple of weeks have been fantastic here on the coast. It's been cool & dry and with the exception of just a few days, very very fishable. Capt. Nathan Donahoe claims he's seeing more Reds than he has ever before seen in his life and if you ask Capt. Chris Robinson "How's the Fishing?" he gets that goofy grin on his face and says "we're wreckin em!" And that would be on light tackle & artificial lures or on fly rods.
Bay guides are coming in with tales of huge Bull Reds (see photo above) and losing count of the sheer numbers of fish they are catching in a day. I called Capt. Jr. Holland while he was still out on his 2nd trip today - so far he said they had 58 in the boat. (no- that's not 58 Redfish!) And Capt. Greg Fletcher was doing really well trout fishing out of Indian Pass.
If the weather holds, the next couple of weeks should be just as favorable for inshore fishing.
The 2013 fishing schedule is starting to come together - looks like Chris & Tommy may have some days open in the Keys in February if you're up for a real Spring Break. As always before we are honoring the right of first refusal for dates fished this year. You should be hearing from me soon for the inevitable deposit request.
Capt. Jr's houseboat is for sale by owner! It is currently being used as a vacation rental property with reservations into April. (and openings in December if you want to come stay!) Reply with your phone number if you are interested in more information and Jr. or Rhonda will call you back.
Happy Thanksgiving Y'all! And don't waste time standing in line at big box stores for Black Friday... Come to Apalachicola where we Light up the Town the day after Thanksgiving. Santa arrives aboard a shrimp boat, there's entertainment around town, the shops will be open until 8PM and the restaurants will be offering some yummy specials in keeping with the holiday. Stop in & say hi!
Kathy Robinson
Robinson Brothers Guide Service
44 Avenue E
Apalachicola, FL 32320
850-653-8896
www.FloridaRedfish.com