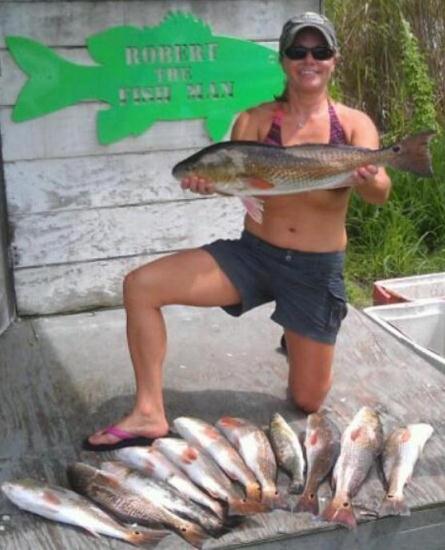 Kathy Jansen's Birthday Fish! Caught this morning with Capt. Jr.
I'm going to make this short & sweet. The weather is supposed to be great this weekend and the redfish bite is ON! Put those together and you get a successful fishing trip to brag about before any inclement weather hits us here. We can hook you up with an inshore or offshore trip and I can even find you a place to stay at the last minute. Check out our fishing reports on the website or go to the Robinson Brothers Facebook page to keep up with the action.
Planning a Fall Fishing trip? It's not too early to make your reservations, especially for larger groups. It's nearly time for me to get started on booking for 2013 as well so be sure to get your "wants" in! Tommy Robinson is in Key West and has the last couple of weekends in September open if business or pleasure takes you even farther south.
Ever had to eat your words? I swore up and down for years & years that I was never going to get into the vacation rental business. Heck, I can hardly stand to clean my own toilets, much less those in a rental house. Well, get out the salt shaker cause I've already got 5 places to manage here in Apalachicola. There's everything from Jr's Riverfront Houseboat to a stand alone Studio apartment with a few Upscale Condos thrown in for good measure and they are all within walking distance of Apalachicola's shops, restaurants & the riverfront. View the Vacation Rentals on the Robinson Real Estate website or email me for links to the VRBO listings.
Well, I've got to go take photos of a house for someone in Ohio - hope to hear from y'all soon!
Kathy Robinson
Robinson Brothers Guide Service
850-653-8896
http://www.FloridaRedfish.com