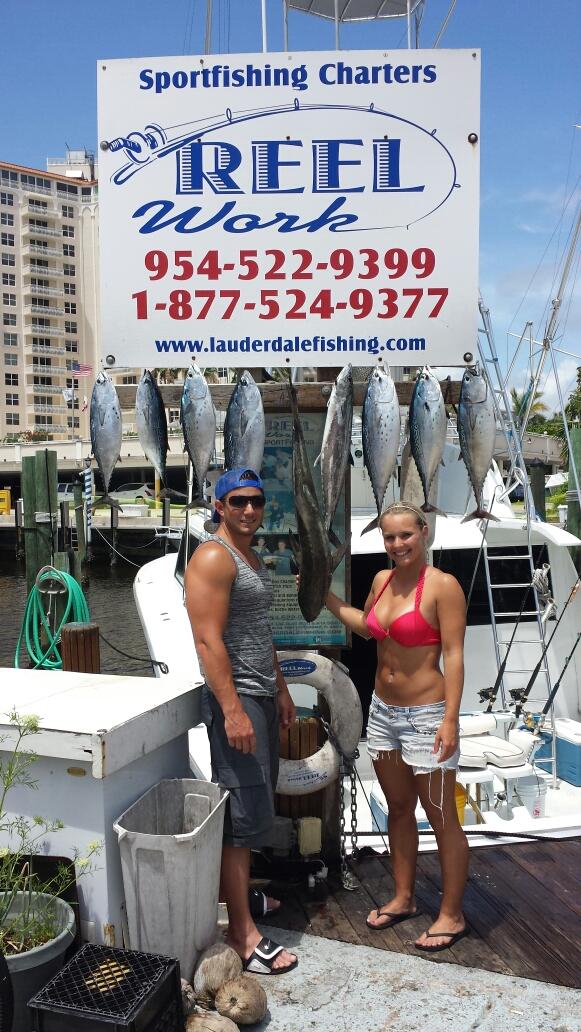 What better way to spend the 4th of July then taking a Fort Lauderdale fishing charter. That is what Zac and Rachel did with us this last Thursday and they were rewarded with a good mix of bonito, tuna kingfish, bottom fish, sharks and even a cobia. We started our day by catching some bait then heading offshore to do some trolling. It wasn't long before the bonito started biting along with some blackfin tuna and a few king mackerel. After the couple had there fill of trolling we stoped at a few wrecks on the way back to the dock. We managed to catch a few bottom fish, a couple of sharks and a nice cobia. Zac and Rachel were all smiles after a fun day of deep sea fishing on the Forth of July.
Don't miss out on all of the hot fishing action this summer. Fill in the form on the left side of this page or give us a call to set up your Fort Lauderdale fishing charter.
Reel Work Sport Fishing Charters
301 Seabreeze Blvd.
Fort Lauderdale, FL 33316
954-522-9399
1-877-524-9377
Email: lauderdalefishing@gmail.com
Website: lauderdalefishing.com
Fort Lauderdale Fishing Charters