Fishing Report
Fort Pierce - Port St Lucie - Vero Beach - Jensen Beach
July 9, 2010
INSHORE REPORT:
Warm summer days with a light breeze welcomed us this week out on the Indian River. While the afternoons are still hot, the mornings are comfortable if you get out early. We can expect similar weather throughout the rest of July. We had fun out there this week and found some fish to keep us busy. Lots of baitfish are moving around the river. Fish around the bait schools and you should find fish hanging nearby.
Chris, Tina, Christina and Garrett were back out for another fishing adventure. The trout bite was slower this week, but they caught some nice trout with quite a few were in the slot range. Garrett ended up with the biggest trout of the day. Little sister, Christina, caught a variety of fish, including a 22" gag grouper on the flats. It was a fun day out there. Joe, Regina, Dillon and Mattick also joined me this week to fish the river. Most of our trout were shorts, but we had some good fun around the docks. After getting broke off several times, Joe ended up with a 22" redfish for dinner.
Even though the trout bite has been somewhat slow, you can still find slot trout around the bait schools. Fish the bait! DOA Deadly Combos, live shrimp and CAL jerk baits are great ways to seek out the trout. Hit the docks when it gets hotter and you can find snook, redfish, sheephead and other species hanging around the deeper ones. Snapper can be found along channel edges, bridges and even on the flats. The glass minnows are coming in heavy now. Look for action to improve as they fill the river. Watch for the schools and fish the edges.
Bridges have been holding sheephead, snapper and some croakers. The beach has the usual whiting to savor on the grill. Catch and release snook fishing around the jetties, especially at night, has been productive. We have seen a few tarpon around the river, but not in any numbers. Schools of jacks are cruising the river and marauding the bait schools. Summer is always warm....but fun and exciting on the river.
Get out early....keep hydrated....use plenty of sunscreen and have some fun this July on the water!
Remember, fishing is not just another hobby....it's an ADVENTURE!
Good Fishing and Be Safe!
Captain Charlie Conner
captaincharlie@fishtalescharter.com
772-284-3852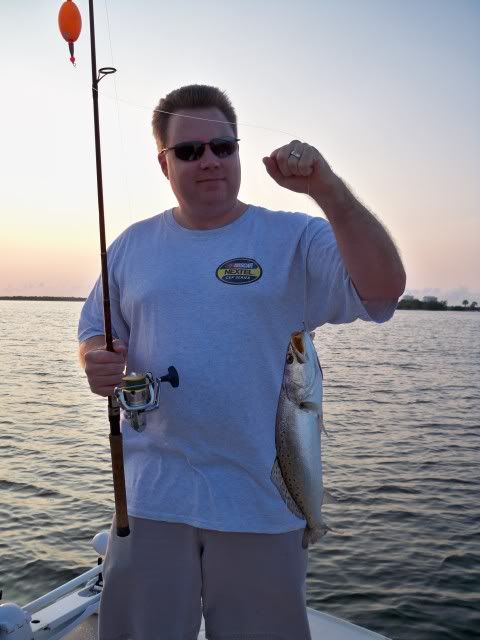 Joe with his redfish. Chris with one of their trout and Christina a little nervous next to the grouper she caught....